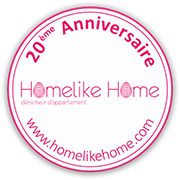 LOOKING FOR THE FLAT OR HOUSE OF YOUR DREAMS?
Entrust us with your search - we'll look, visit and find it for you!
20 years of succes
In 2023, Homelike Home celebrates 20 years of property hunting.
Thank you to our many loyal customers.
VISITING YOUR ARMCHAIR WILL NEVER HAVE MADE AS MUCH SENSE AS IT DID THIS SUMMER OF 2022!
Homelike Home, at the service of the buyer, has long understood the need to avoid unnecessary travel. Being eco-responsible means limiting your energy consumption...
Homelike Home visits for you. You visit from the comfort of your own armchair and you save energy, and petrol in particular, because you limit your journeys.
All visits are visible in real time on our customer blog my.homelikehome.com
Let's take care of our planet and delegate your property search to your property hunter
La première maison proposée par HomeLikeHome fut la bonne, cochant toutes les cases. En amont de cette visite décisive, une remarquable capacité d'écoute et de traduction de nos rêves en cahier des charges. Une série de maisons jaugées et éliminées jusqu'à la perle rare. Nous remercions chaleureusement Théa pour son accompagnement sympathique et professionnel jusqu'à la conclusion de la vente.
merci à l'équipe Homelike Home pour son écoute et pour la compréhension de notre recherche que de temps de gagné pour aboutir avec succès.
Un grand merci à Homelikehome de m'avoir trouvé l'appartement de mes rêves en 3 mois seulement. Je recommande vivement vos services de chasse immobilière à Paris.
Enfin une agence qui cherche des biens pour nous! Attentive aux critères, perspicace, nous n'avons pas tardé à trouvé LE bien que nous espérions! Un réel professionnalisme! Merci!
Très bonne expérience avec Homelike Home. Nathalie a toujours été à l'écoute et à très bien saisi notre demande. Nathalie a lancé des recherches tres bien ciblées sur le littoral du Morbihan. Grâce à elle, nous avons pu trouver notre maison en deux mois alors que nous étions à distance. Nathalie a su convaincre la propriétaire à qui nous avons acheté de nous faire confiance. Un service sérieux. Nous recommandons fortement.
HomelikeHome offre une prestation au top ! Si vous voulez trouver le bien de vos rêves rapidement et sans bouger, je recommande sans hésiter. Équipe réactive, à l'écoute et de très bons conseils.
Très belle expérience, un accompagnement d'Homelike tout en sensibilité et conseils astucieux qui nous a permis de trouver notre nouveau logis en 3 mois. Tous les critères identifiés au départ ont été honorés. Nous recommandons vivement Homelike, pour nous c'était la deuxième fois que nous faisions appel à eux sur une période de 10 ans !
Merci pour votre excellente prestation: parfaite compréhension de notre besoin, très bonne sélectivité des biens présentés, conseils pertinents, adaptés et objectifs. Je recommande sans réserve Homelike.
La qualité des gens dans le service est essentielle.
HOMELIKE HOME AT FRANCÉCLAT, THE MAGAZINE OF INNOVATION

Homelike Home:
your home hunters agency
Buying real estate is a major investment, often lasting many years, and can even be the most important purchase of a lifetime. To find the house or apartment of your dreams, you need to put all the odds on your side. With nearly 20 years' experience, Homelike Home is a property hunter company offering its expertise to help you find the apartment, house, business premises or office that suits your needs. Thanks to our knowledge of the real estate market and our network, we provide personalized support, from drawing up specifications to the final signature of the purchase, and even beyond in some cases.
Why use the services of a property hunter?
At Homelike Home, we have a team of real estate professionals at your disposal to give you greater flexibility in your search for the ideal property. By listening to our customers to understand their needs and giving them the right advice, our property hunters will present you with the offers that are closest to your expectations, avoiding unnecessary visits and wasting your time.
Constant monitoring for customized support
The property hunter makes himself available to represent and defend the buyer's interests vis-à-vis all market players: the seller, the real estate agent, the syndic, the diagnostician, the renovation companies, etc. The future buyer entrusts them with an exclusive search mandate for a few months, renewable by tacit agreement up to a maximum of 1 year.
Property hunters are professionals who are sufficiently "equipped" to carry out a tailor-made search for both apartments and houses, according to the criteria you have defined together for the project, for both classic and off-market products. Each hunter has access to a database of all properties for sale on most platforms, in real time. This means you have the support of an experienced agent who is constantly prospecting on your behalf, while keeping a constant watch on new offers available on the market. His or her job consists, first and foremost, of finding and consulting real estate advertisements from estate agencies, property agents, notaries and private individuals, and listing properties for sale. The property hunter then makes an initial selection of properties that meet your requirements. He or she then seeks out additional information and visits the property on site.
At each stage of your apartment search, your Homelike Home hunter will provide you with a detailed report on the property, including photos, positive points, negative points, her opinion, diagnostics, plans.... You can then decide whether or not to visit one of the pre-selected properties, knowing that you already have all the information you need.
Save time with a property hunter
A property hunter saves time in the process of buying your house or apartment. A property hunter is an intermediary who searches for properties with the characteristics you're looking for and the budget you need to allocate to the project.
Indeed, property visits are one of the most time-consuming stages in the apartment-hunting process. You need to check that the properties meet the criteria set out in the specifications, and that the environment is conducive to your business or family life.
Perhaps you're looking for an apartment close to a good school for your children, in a quiet area, but with modern infrastructure. Homelike Home's mission is to find the property that meets your search criteria and specifications before calling you to move. Our real estate service meets the needs of corporate executives, managers and first-time buyers who are not always available to visit a property. Through our advisory and support role, we provide invaluable assistance to help you finalize your apartment or house purchase project more quickly.
Get the best prices on the market
Another advantage of using apartment hunters is that you can obtain properties at the best possible price. The property hunter is a professional who defends your interests with the seller or real estate agent. With his or her knowledge of the market, he or she will negotiate on your behalf, based on concrete facts and figures from the industry.
This is an advantageous solution for people who are not necessarily comfortable negotiating with a real estate agency, or who are not familiar with the arguments they need to put forward to benefit from a price reduction. The property hunter positions himself as an expert in the sector, paying attention to every detail of the offer and knowing the current market prices.
Homelike Home, your recognized real estate professional
In France, Homelike Home is a well-known player in the real estate market. We comply with all legal requirements for intermediaries in real estate transactions, and hold a professional license in accordance with the Hoguet law. We are active in professional associations, and were one of the founders of the FNCI (Fédération nationale des chasseurs immobiliers) created in 2007. This gives us certain privileges, notably access to off-market properties, so that we can offer the best possible service to our buyer clients.
Like a traditional real estate agent, a hunter's fee is paid only when the sale is completed, and usually corresponds to a commission on the transaction amount. So you won't have to pay out any money until you've found the house or apartment that really meets your needs. Don't hesitate to ask for Homelike Home's services for any property purchase or rental in Paris or elsewhere in France. You can also contact us for more information about our services.